Holiday in Cornwall 11th May - 18th May 2013
Home Cornwall Day 1 Day 2 Day 3 Day 5 Day 6 Day 7 Day 8
Day 4 - Tuesday 14th May
The weather forecast for today was rain and that forecast was very accurate - it rained all day. We went to visit the Eden Project near St Austell. Although we had to walk outside to get to the various domes, we could spend a lot of time in the domes and be fairly dry.

The Eden Project is in an old quarry or chalk pit. There are outdoor parts and indoor parts in geodesic domes. The Rainforest Biome shows the importance of the rain forest areas of the world and some of the very important plants that are grown there or originate from there.


A mock ship with a cargo from a rain forest are shows the trade that goes on.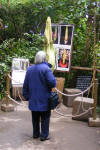 A most unusual plant - a Titan Arum - that can be observed on a web cam on the Eden Project website.

Elaine by a 'Lollipop' plant

Bananas growing

Coffee bushes growing
We then went through to the Mediterranean Biome where we met other important plants

Olive tree - a source of much cooking oil (Olive Oil)

Grape vines

Citrus fruits