Holiday in Norfolk - 11th - 18th July 2014
Home Norfolk Day 2 Day 3 Day 4 Day 6 Day 7 Day 8
Day 5 - Tuesday 15th July 2014
Today we went to Oxburgh Hall, another National Trust property, but a very different one - a moated manor house. The house was built by the Bedingfield family in the 15th century and they have lived there ever since. They were a Roman Catholic family and maintained that all the time. There is one known priest hole which can be seen and even crawled into but there may be other which have never been found. There is s small church built in the grounds of the house and is still used by the family when in residence.
The moat is still full of water, the gatehouse roof can be accessed from a spiral staircase.


Oxburgh Hall, recrangular plan (almost square). Outer curtain wall outside moat. Moat surrounds main house. Building started in 15th century but there were several alterations over the centuries.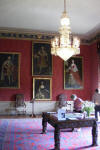 Some of the rooms were quite well decorated with fancy ceilings. Some furniture was very nice quality.
There were some lovely rooms and furniture.
The King's room was on the first floor up a spiral stone staircase. It was panelled in oak. The Queen's room was up a floor and not nearly as well appointed.


2 views from the roof above the King's and Queen's rooms. A view between the curtain walls.