Holiday in Norfolk - 11th - 18th July 2014
Home Norfolk Day 2 Day 3 Day 4 Day 5 Day 6 Day 8
Day 7 - Thursday 17th July 2014
Today we drove across towards the coast hoping to visit two Roman sites and to explore a bit more of the coast and countryside. First stop was at Filby Bridge to view the Broad. There was not a lot to see, a few aquatic birds, but not very much.



2 views of Filby Broad with a dinghy full of flowers for Britain in Bloom
We continued on towards Caister and found our way to Caister Roman Fort.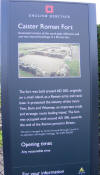 There is not much to see - mainly outline wall foundations. The buildings may have been constructed from wooden frames with panel infill - perhaps similar to wattle & daub. The fort would hold about 500 soldiers, some infantry and some mounted.
From there we headed north up the coast to Winterton.
5 views from Winterton beach: south towards Great Yarmouth; north; inland towards the lighthouse; towards the 'trulli' like holiday cottages.
Our next destination was Burgh Castle. This was a Roman Saxon Shore Fort built about 200AD to defend the coast from Saxon raiders. The one at Caister was probably part of the defensive arrangements. There is more to see of the curtain walls but absolutely nothing of the internal buildings. There was a Norman 'motte bailey' castle within the walls of Burgh but that was demolished at some point. The fort is the usual playing card shape. The west wall has disppeared - quarrying for the nearby brickworks during the 19th century may be responsible.
Information board - there are several around the site; the east wall from the edge of the site; approaching the north-east corner. The north-east corner bastion - note the construction, mortar bonded flints with alternate tile levelling courses. The wall was faced with flints.
Areas of facing can still be seen towards the lower levels. Looking over the river valley - in Roman times a wide estuary inlet. An information board.