Holiday in Sicily 27th June - 4th July 2013
Home Sicily Intro Day3 Day4 Day5 Day6 Day7 Day8
Friday 28th June We visited the nearby town of Taormina where we had free time to explore the town and the Greco-Roman Theatre.
The old part of the town is mainly pedestrianised and has many shops, cafes, restaurants, etc. The Duomo was in the centre of the town and was the scene of a wedding whilst we were there, so it was not possible to enter and take photographs. The exterior was of no particular architectural significance. The town is very popular with tourists.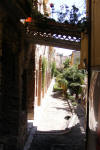 The photographs show the coast below the town, a typical narrow side street, the white classic car attending the wedding in the cathedral, main shopping street.
We visited the Greek theatre. The theatre was built in the Greek period (from about 700BC to about 200BC) but was comprehensively remodelled by the Romans who took control of the island about 210BC.




Photographs from left - Greek seating; view from seats towards stage backdrop wall of Roman period - the purple blocks are for a modern production; View from seats towards stage with Mount Etna in the background; long range view of theatre from CastelMola, high above Taormina.