Holiday at Hotel Alpha, St Agnello, near Sorrento.
Friday 24th June - Friday 8th July 2011
Home Sorrento Day 1 - 4 Day 5 - 7 Day 8 - 10 Herculaneum Pompeii Villas
Day 11 - Monday 4th July
We had planned a day on buses going to Amalfi and other towns in that area. However, there have been strikes at SITA buses over the week-end and they seemed to have resulted in some services today not running. Ours was one. Eventually we gave up, went for a coffee and caught an EAVBus to Massa Lubrense. It is an exciting ride round switchback curves, often overlooking the sea. Massa Lubrense is a small town and we found ourselves walking down towards the sea, ending up at Marina Lobra. There we looked around, ate some lunch in a bar - Funiculi-Funicula Bar, Pizzeria and Ristorante. We then caught the next SITA bus back to Sorrento, where we walked towards Davide's Gelateria for an ice cream. We continued using EAV Bus by catching one for Meta Spiaggia. Meta is up the hill near the Circumvesuviana rail station and Meta Spiaggia is at the foot of the very steep hill where the beach is. We had a look around but did not venture in the sea and caught the next bus back to Sant'Agnello. Dinner was a Neapolitan theme with music from a mandolin and a guitar.
Day 12 - Tuesday 5th July
We knew that there were public sector strikes due today so did not plan on moving far. We walked into Sorrento to do some shopping. The weather was overcast and light rain started from time to time. We explored a 13th century cloister attached to a later church of San Francesco. There were beautiful flowers around the cloisters and vines growing from the ground to the 3rd Floor. The building and garden are often used for weddings. In part of the 2nd floor is a permanent exhibition of the local craftsmen and their intarsia wood objects - boxes and other items. We shopped for a few souvenirs of our holiday and then returned to the hotel, having to walk as the buses were not operating over lunchtime due to the strikes. Later the weather improved and we managed a short session in the swimming pool.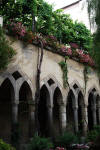 The cloisters of San Francesco. Grape vines grow from ground level up to 2nd floor level.
Day 13 - Wednesday 6th July [Top of Page]
We were assured that there would not be any strikes today on the buses, so we walked into Sorrento and caught a bus to Amalfi. The weather all day was hot and sunny. The drive along the coast to Amalfi was spectacular with cliffs plunging to the sea, the road clinging to the side of the mountains as it wound its way along the coast, and we had seats right at the front of the bus on the non-driver side. Amalfi is a small town clinging tot he side of the hills above the sea, with just a small area of flat land by the sea (I am sure some of that is reclaimed). We explored parts of the town, went into the cathedral, and than had lunch in a cafe in a piazza. Later we caught a bus up the hill to Ravello and explored parts of that. It seems to be a 1 piazza town high up the hill above Amalfi. We did not enter the Villa Rufolo. After an ice cream from the gelataria we caught the bus back down. The buses back to Sorrento were very crowded and we had to stand until Positano (one English gent did give up his seat for Elaine.) Eventually we arrived back in Sant'Agnello and the hotel for a much needed cool down and shower. After dinner there was live music on the terrace until midnight, but it did not keep us awake.
Amalfi - the cathedral, treasures of cathedral, Tomb of St Andrew, Chapel in cathedral
Ravello - View from cliff top, central piazza towards Villa Rufolo, view across valley, ceramics outlet.
Day 14 - Thursday 7th July
Another sunny, cloudless day. We walked into Sorrento, calling in at the museum on the way. Entrance at €7 each with no discounts was more than we were prepared to pay. We walked as far as just above Marina Grande and took some photos of the Marina. We also took other photos to complete the collection and then retired to Davide's for coffee. Before we left Davide's we also had an ice cream. We caught the Line B bus in Piazza S Antonino and went down to Marina Piccola. After a walk around we caught the bus again and returned to Sant'Agnello. We shopped for lunch and returned to the hotel room to eat it on the room terrace. During the afternoon we relaxed by and in the pool. Dinner was again a Gala Dinner with theatricals and sparklers.
Gala Dinner - Elaine, Edwin, Meat Course, Vesuvius Cake
Day 15 - Friday 8th July
The last day of the holiday was also the hottest - cloudless and sunny and temperatures approaching 30o C. Our coach pick up for the transfer to the airport was not until nearly 6.00 pm. After packing and exiting our room we left the luggage at the hotel and walked into Sorrento, stopping to look at and walk through the lemon groves along the way. We had a few photographs to take, particularly of Marina Grande. Also, I wanted to take a photograph of the front gates to Villa Tritone on Via marina Grande. Afterwards we walked further along until we found the front entrance to Artis Domus and we stopped for a cold drink. The Villa is surround by a very high wall enclosing a large garden full of trees, citrus mainly, and is quite shady. It operates as a cafe and has 5 holiday apartments. Later we had lunch at Davide's and then returned to the hotel where we rested in the shade until our taxi came to take us to the coach pick up point in Sorrento. The journey home was fairly uneventful except for a long delay in the baggage retrieval at Birmingham. We arrived home sometime after midnight.

Entrance gate to Villa Tritone, featured in Monty Don's Italian Gardens TV programme.