Holiday at Hotel Alpha, Sant'Agnello, near Sorrento.
Friday 24th June - Friday 8th July 2011 Visit to Roman Villas
Home Sorrento Day 1 - 4 Day 5 - 7 Day 8 - 10 Day 11 - 15 Herculaneum Pompeii
On day 9, Saturday 2nd July, we went to visit some Roman period villas between Pompeii and Herculaneum. We chose a Saturday as the train ticket for the Circumvesuviana railway was an all day ticket for the trains and buses and we knew we would be using both for coming and going. The first was near Torre Annunziata Oplontis station; all we had to do was walk down the hill from the station. The villa at Oplontis is thought to have belonged to Emperor Nero's wife Poppaea Sabina.

Front view of villa below street level.

Finial detail along roof edge.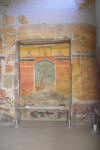 Wall paintings in various styles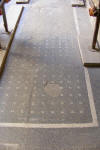 Floor decorations are usually mosaic


A Peristyle walk around a garden, a genuine Roman walking in the peristyle.

Very large water feature in gardens, plan calls it a swimming pool. [Top of Page]
We next visited the Villa San Marco which we travelled to by local bus from Via Nocera station on the Circumvesuviana Railway. Villa San Marco is another very large residential villa and is still being excavated and restored, so parts were not open to visitors. It is difficult to see the whole villa as the approach does not allow a good vantage point. There is a good artist's impression on a display board.
Artist's Impression Plan Much of the building is being repaired, stabilised or restored.
Atrium with central impluvium Information about bath house remains of bronze cauldron kitchen area
Various wall painting from around the villa.
About a kilometre up the hill were another two villas, called collectively Villa Arianna. These had been buried under 20 metres or so of ash and pumice. Some of the mosaics and other items were retrieved in the Bourbon period and lodged in the Naples Archaeological Museum. Again, it is difficult to see the villa as a whole and there are less display boards to help. Wall paintings and floor mosaics were both of a high order.


The entrance at the bottom of a slope and in indication of the amount of material to be excavated.
Wall paintings Excavation area
Floor mosaics were of mostly geometric patterns.
The second villa is immediately next to the first and separated by only a narrow court. Mosaic floors from the villa were removed during the Bourbon era and reconstructed in the Naples Archaeological Museum. Some of the rooms had collapsed down the slope. It was not possible to take many photographs during the very brief tour. A set of stairs indicates a 2-storey dwelling.