Walking the Thames Path from Source to Barrier - 184 miles
To be done in stages during 2014 by Elaine.
Home Path-Index Day 1 Day 3 Day 4 Day 5 Day 6 & 7 Day 8 & 9 Day 10&11 Day 12 Day 13 Day 14 Day 15
Day 2 - Sunday 29th June 2014
We had a good weather forecast for the day with liitle chance of rain. I wanted to walk the section from Cricklade through Lechlade to about Trout Lock or Buscot Lock. In the event, I managed to get to Buscot Lock.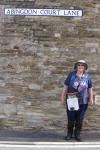 Elaine at Cricklade about to set off for the day.

Along this section there are two WW2 pill boxes to see.

Father Thames statue at St John's Lock

Information plaque about Father Thames.
St John's Lock near Trout Inn, Lechlade

Pill Box on Thames bank.