Two weeks to Italy by Rail 29th May - 12th June 2014
Home Italy 2014 Day 1 2 3 4 5 6 7 9 10 11 12 13 14 15
Day 8 - Thursday 5th June
Into Sirmione first thing after breakfast. We did some shopping, including things for a picnic lunch. Then we walked along La Passagiata Panoramica to the end of the peninsula where we found Le Grotte di Catullo - a ruined Roman period villa. We had been before but we went in and explored the museum and the ruins. The ruins are mostly of the sub-structure, foundations for the villa proper. Most of the stone had been robbed for use in later buildings, probably including the local church. The structure is impressive in size but little is left of any plaster or mosaics.


Post cards showing the location and extent of the villa



Called "The Cryptoportico" - part of the subterranean structure supporting the villa on the height of the headland. Note the rock strata in the third image.


Called "The Swimming Pool" it was probably supplied with water from several cisterns dotted around the site


One of several long underground tunnels


Substructure - as they are nearer the end of the villa, they get bigger and more impressive.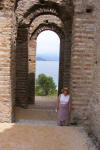 Long Corridor, sloping towards the end. Elaine gives an indication of scale.

The end of the villa from the water.