Home Turkey Istanbul Gallipoli Troy Pergamon Ephesus Kusadasi Priene Miletos Didyma Hierapolis Aphrodisias
Selcuk - Day 10 - Wednesday 11th May
Took the Dolmus to Selcuk and were dropped at the central bus station. We did not look around the town as we were not shopping. We walked along towards the Byzantine Castle, which we eventually found was accessed from the Basilica of St John.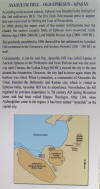 The earliest settlement was centred on Ayasuluk Hill (by modern Selcuk) but silting of the river and harbour resulted in marshy ground. Malaria became a problem and about 280 BC the city was moved to its present site by the Greek commander Lysimachus. During the Augustinian period the city was further developed and rebuilt further up the hill, away from the marshy ground.
It is thought that after the crucifixion of Jesus, St John (the writer of the Gospel of St John) fled from Jerusalem with The Virgin Mary and ended up in Ephesus and lived there quietly for some years. There is no historical or biblical record of the years 39 to 48 AD. It is more certain that he returned to Ephesus as an old man and wrote part of his Gospel there before his death. He was reputed to be nearly 100 years old when he died. He was buried on Ayasuluk hill near an ancient church in what is now Selcuk. The church was later rebuilt as a large Basilica Church by Emperor Justinian during the first half of the 6th century AD.
Information boards and modern entrance to site. Model of 6th century basilica
Vaulted platform end of basilica where land falls away, Information board, Side entrance, Looking along nave towards apse.
Tomb of St John
Baptistry, full body immersion floor level font. [Top of Page]
Ayasuluk Hill is dominated by a Byzantine Castle which is closed for excavation and restoration.



The latter image was taken from the edge of the Basilica of St John site.
Remains of an aqueduct supplying water to Ephesus run alongside the Basilica site.