Home Turkey Istanbul Gallipoli Pergamon Ephesus Kusadasi Selcuk Priene Miletos Didyma Hierapolis Aphrodisias
Troy - Day 6 Saturday 7th May
Troy is quite a big site and has many layers. so it can be confusing to sort out what you can see. We did not buy a guidebook, which might have helped. There are information boards in English and Levent's explanations were very good. The wild flowers were prolific and beautiful. There were lots of poppies in bloom all over Turkey and they were a deeper red than we normally see.


The replica Wooden Horse at the entrance was a big hit with all ages.


The entrance to Troy, showing the way in curved round to present a 'killing field'.

Sectional plan of Troy showing the various levels.

Top of the site with view of surrounding plain.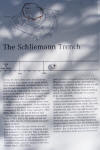 The Schliemann Trench [Top of Page]
We continued south and found lunch in a Turkish village, Yesilyurt, where we also visited the local mosque. There was also a demonstration of how to prepare Turkish coffee.


The cafe looked quite attractive. Note the overhanging house in the second image.
We then continued on to our hotel at Ayvalik.


Grand Hotel Temizel, Ayvalik. The beach entrance and the pool we never used.